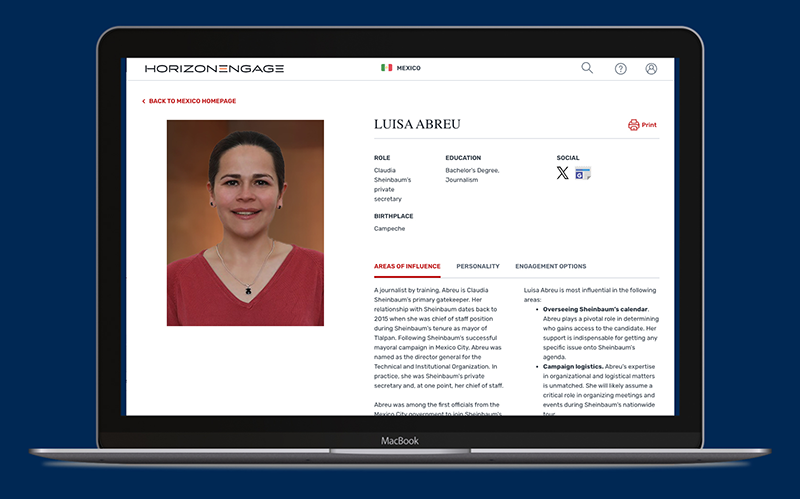 If you want a meeting with Mexican presidential candidate Claudia Sheinbaum, you need to reach out to Luisa Abreu.
A journalist by training, she has worked with Sheinbaum since 2015, when Abreu became the chief of staff of the then-mayor of Tlalpan. After Sheinbaum was elected mayor of the capital district in 2018, Abreu was appointed Director General for Institutional Organization but, in practice, served as Sheinbaum's private secretary.
Abreu was among the first Mexico City government officials to join Sheinbaum's primary campaign for the ruling MORENA party. She is a key member of Sheinbaum's inner circle, which also includes political coordinator Adan Lopez, territorial liaison Ricardo Monreal, spokesperson Gerardo Fernandez and electoral strategist Ivan Silva.
"Her constant presence alongside the candidate during all public appearances underscores her indispensable role in the day-to-day operations," says Horizon Engage analyst Alexia Bautista. "While her primary focus may not be policy advice, Abreu participates in nearly every meeting and enjoys Sheinbaum's unwavering trust."
In which areas is Abreu most influential?
How is she connected to Mexico's top political families, including those prominent in the opposition PRI?
What would Abreu like to discuss with foreign investors?
Learn more on Engage Interactive, a proprietary platform that keeps you abreast of the changing political risk factors and personalities in emerging markets. Request a demo to learn more about the influencers and countries we profile.
Register Now
Please complete the form below to register for the Mexico: The Path to Succession 2024 series. The series will be complimentary through the end of 2023.
About Horizon Engage
Horizon Engage provides country-level analysis on political, social and environmental issues that impact the investment climate for foreign direct investors. We're changing the game for our clients by merging tech and geopolitical expertise in a whole new way. Let us be your eyes and ears so you can make decisions with confidence. Learn what we do.