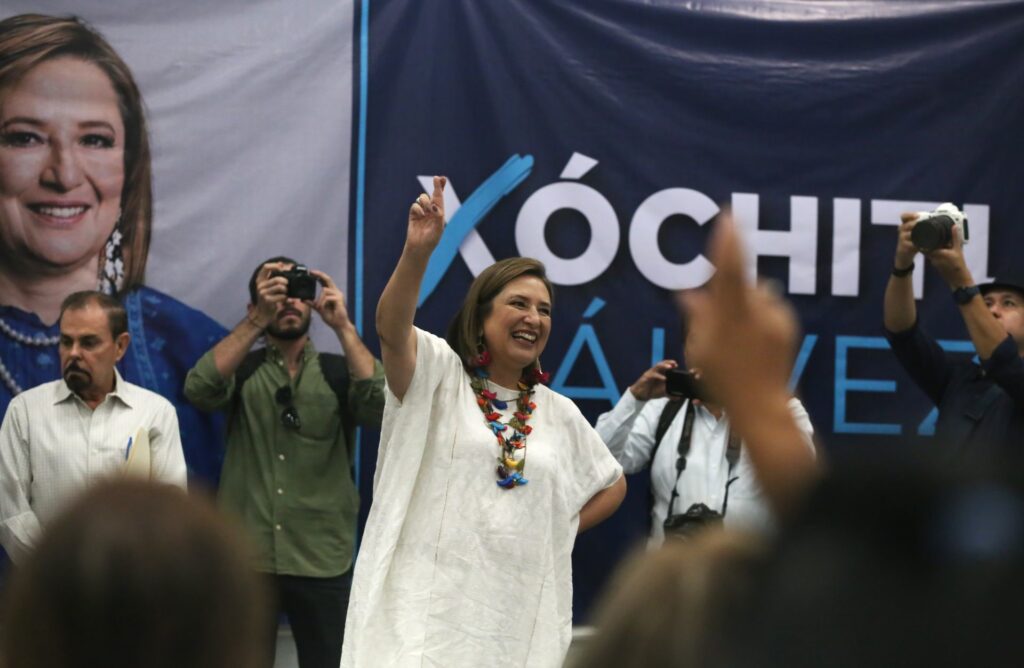 Senator Xóchitl Gálvez is gaining significant attention as an unconventional contender for Mexico's upcoming 2024 presidential election. With her humble origins, roots with the Otomi indigenous people, and self-made success, she poses a potential challenge to President Andres Manuel Lopez Obrador (AMLO)'s National Regeneration Movement (MORENA).
Gálvez's political career began in 2000 when then-President Vicente Fox appointed her head of the National Commission for the Development of Indigenous Peoples (CDI). In this role, she often took positions contrary to those of the federal government, including her rejection of the Indigenous Law that was approved at the time, which she believed did not adequately address the demands of Indigenous peoples.

In 2010, she ran unsuccessfully for the governorship of Hidalgo, expressing dissatisfaction with the lack of support from the National Action Party (PAN), which never fully embraced her. Nonetheless, there was still a need for cooperation, and she won the race for mayor of Miguel Hidalgo, a wealthy municipality in Mexico City. She served in that capacity from 2015 until 2018, when she was elected to the Senate. She still holds that seat.
Controversy with President AMLO and Potential Challenges
On 12 June, Xóchitl Gálvez made headlines when she visited the National Palace to assert her right to respond to President AMLO's accusations of opposing social programs. This bold move followed a judicial ruling that granted her permission to attend the morning conference and address the president, despite his refusal to comply.
As Gálvez emerged as a potential contender for the opposition presidential nomination, President AMLO frequently mentioned her in his daily press conferences, labeling her a "wimp," "puppet," and "employee of the oligarchy." Further, he recently went as far as questioning her upbringing in poverty and publicly releasing private financial information about her businesses. Gálvez accused him of using the state apparatus against her and even threatened legal action. AMLO's commentaries also drew the scrutiny of the National Electoral Institute, which has ordered him to stop making statements on electoral issues.
Gálvez poses a unique challenge to AMLO, as her background as a woman from Hidalgo with indigenous roots sets her apart from other politicians in Mexico and undermines his rhetoric of the Fourth Transformation, which strives to eliminate the abuse of privilege in the government, specifically high salaries and lavish lifestyles. Her direct and relatable communication style, along with her unconventional image, has the potential to make her a figure of widespread appeal.
Rising Prospects
These qualities could resonate with voters who may otherwise lean toward MORENA candidates. Moreover, the potential to mobilize a significant voter turnout, especially among the middle class, makes her candidacy particularly impactful. In this scenario, even if she does not secure the presidency, she could still divert votes away from MORENA, particularly in congressional elections. This would substantially affect the balance of power within the government and challenge the ruling party's dominance.
A national poll conducted by El Financiero in early July showed that Gálvez's popularity is steadily rising, and she holds a significant 6-point lead over her closest competitor among the opposition candidates. Additionally, Gálvez has announced that she has already collected the required 150,000 support signatures, enabling her to proceed in the selection process. She will now participate in a political forum scheduled for 10 August, where she will debate her ideas with other opposition candidates.

Another important signpost to watch out for is the first opinion poll from the alliance, scheduled to be carried out from 11 to 16 August. This poll will play a crucial role in determining the top three candidates with the best opinion results, who will then participate in five forums before announcing the nominee on 3 September.
Assessment
In our assessment, Gálvez faces significant challenges in becoming a presidential candidate. The opposition alliance, composed of the National Action Party (PAN), the Institutional Revolutionary Party (PRI) and the Revolutionary Democratic Party (PRD), is divided. Gálvez is one of 12 competitors registered for the coalition primary. Other strong contenders include seasoned PAN Federal Deputy Santiago Creel and Enrique de la Madrid, a PRI member and son of a former president.
Furthermore, with the presidential election still nearly a year away, numerous unforeseen scenarios can unfold: They range from a strong performance by the MORENA candidate to potential missteps by Gálvez herself, to external circumstances that disrupt her candidacy, to internal party conflicts that hinder campaign operations, to strategic political moves by President AMLO. We believe Xóchitl Gálvez must capitalize on the current political momentum she has accrued and extend it for as long as possible.

However, this is a challenging task for three key reasons: She must navigate the low level of public attention and the limited engagement in politics, particularly among younger audiences; she needs to overcome the skepticism surrounding the political parties endorsing her candidacy; and last, she must demonstrate exceptional resilience and the ability to counter attacks that will come from the political establishment and President AMLO himself. So far, her charisma, self-confidence and personal history have served as valuable assets in this endeavor.
Please complete the form below to learn more about the Mexico's upcoming 2024 presidential election.
About Horizon Engage
Horizon Engage provides country-level analysis on political, social and environmental issues that impact the investment climate for foreign direct investors. We're changing the game for our clients by merging tech and geopolitical expertise in a whole new way. Let us be your eyes and ears so you can make decisions with confidence. Learn what we do.